AEC-Q100
Automotive grade analog IC
The new energy vehicles are driving rapid growth in automotive electronics demand. Comparing to the traditional cars , new energy vehicles require more analog ICs because of the increasing features from motorization and intelligence ,e.g., electrification, smart cockpit, telematics, ADAS, infotainment and lighting.
The vehicles require higher reliability standard analog ICs. In order to comply with that, Runic technology is collaborating with wafer foundries that areI ATF16949 certified with mature AEC-Q100 process, as well as industry leading assembly factories, such as ASEN Semiconductors Co, etc., in order to develop automotive grade products that meet AEC-Q100 and MSD1. In addition, Runic is also adopting ISO26262 ASILD safety standard system under the guidance of TÜV Rheinland.
AEC-Q100 QUALIFICATION LIST
Product category
Product
Package
Wafer output
Package design & material preparation
Package design of experiment
Seal test trial production
Operational amplifier
RS722PXK-Q1
SOP8
Done
Done
Done
Done
RS724XP-Q1
SOP14
Done
Done
Done
Done
RS8414PXQ-Q1
TSSOP14
Done
Done
Done
Done
RS8452XK-Q1
SOP8
Done
Done
Done
Done
RS8454XP-Q1
SOP14
Done
Done
Done
Done
RS8454PXQ-Q1
TSSOP14
Done
Done
NA
TBD
RS622XQ-Q1
TSSOP8
Done
Done
TBD
RS8412PXK-Q1
SOP8
TBD
RS721PXF-Q1
SOT23-5
Done
Done
Done
Done
RS8557XF-Q1
SOT23-5
Done
Done
Done
RS8411XF-Q1
SOT23-5
Done
Done
On going
AEC-Q100 is a failure mechanism based stress test qualification for packaged integrated circuits used in automotive applications. This specification has been established by the Automotive Electronics Council (AEC) to define part-qualification and quality-system standards for packaged integrated circuits used in the automotive industry. In order to ensure proper function in harsh environment, electronics used in automotive industry has to meet higher quality and reliability standard that is defined in AEC-Q100.
NO
TEST ITEM
ABBREVIATION.
TEST METHODOLOGY

GROUP A Accelerated Environmental Stress Tests

A1
Pre-conditioning
PC

J-STD-020

JESD22-A113

A2
temperature/humidity/bias / highly accelerated stress test
THB/HAST

JESD22-A01

JESD22-A110

A3
autoclave / unbiased HAST / temperature humidity
AC/UHST/TH

JESD22-A102

JESD22-A118

JESD22-A101

A4
temperature cycling
TC
JESD22-A104
A5
High temperature storage life
HTSL
JESD22-A103

GROUP B Accelerated Lifetime Simulation Tests

B1
high temperature operating life
HTOL
JEDEC JESD22-A108
B2
early life failure rate
ELFR
AEC-Q100-008

GROUP C Package Assembly Integrity Tests

C1
wire bond shear
WBS
AEC-Q100-001
C2
wire bond pull
WBP
MIL - STD 883 Method2011
C3
solderability MCM external leads
SD
JESD22-B102
C4
physical dimensions
PD

JESD22-B100

JESD22-B108

C5
solder ball shear
SBS
AEC-Q100-010
C6
lead integrity
LI
JESD22-B105

GROUP D Die Fabrication Reliability Tests

D1
electromigration
EM
/

D2

time dependent dielectric breakdown
TDDB
/

D3

hot carrier injection
HCI
/

D4

negative bias temperature instability
NBTI
/

D5

stress migration
SM
/

GROUP E Electrical Verification Tests

E1
pre-and post-stress function/parameter
TEST
规格书
E2
electrostatic discharge human body model
HBM
AEC-Q100-002
E3
electrostatic discharge charged device model
CDM
AEC-Q100-011
E4
latch-up
LU
AEC-Q100-004
E5
electrical distribution
ED
AEC-Q100-009
E6
fault grading
FG
AEC-Q100-007
E7
characterization
CHAR
AEC-Q003
E8
electromagnetic compatibility
EMC
SAE JI752/3

GROUP F Defect Screening Tests

F1
part averaging testing
PAT
AEC-Q001
F2
statistical bin/yield analysis
SBA
AEC-Q002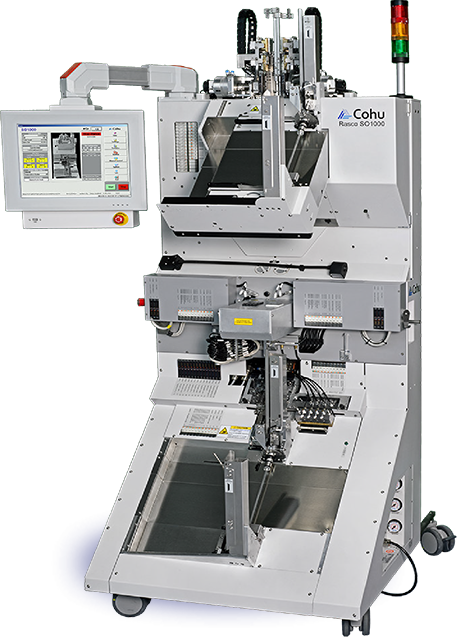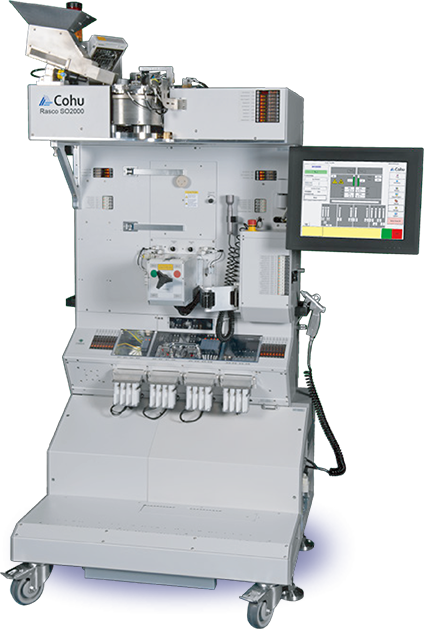 Highest standard TSK tri-temperature prober and industry leading Cohu tester are used to implement Runic's tri-temperature test.
TRI-TEMPERATURE TESTING PROCESS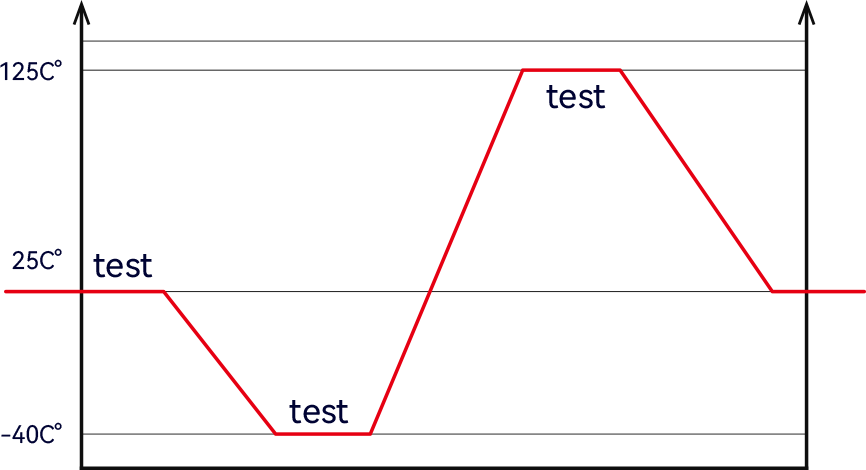 Runic implements low temperature test to screen wafer level early defects and room/high temperature tests for finished goods. All automotive grade products at Runic will go through full tri-temperature test flow.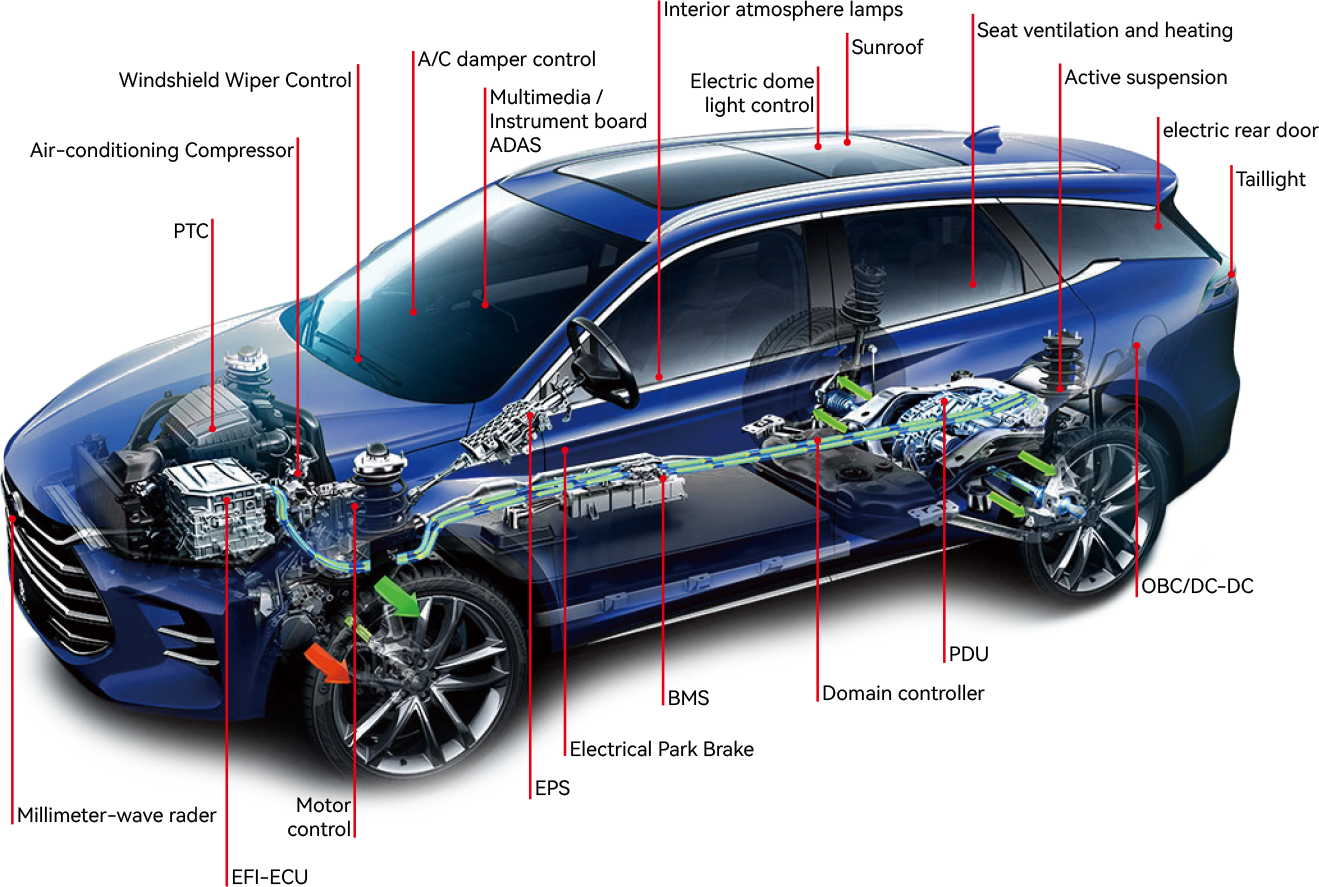 AUTOMOTIVE ELECTRONICS QUALITY SYSTEM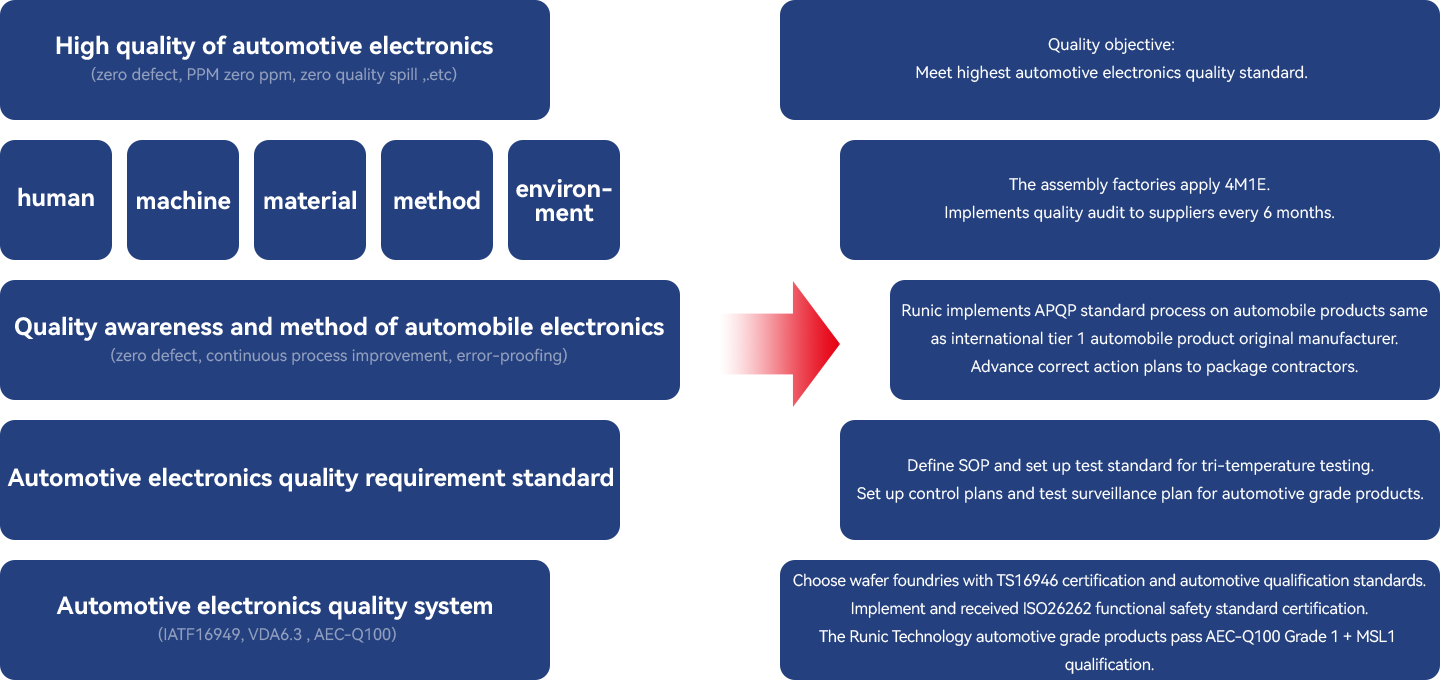 Runic Technology is continuously pursuing higher quality management systems. We have established DQE, SQE, CQE, QS to improve quality management on design, manufacture and test, which will result in higher product quality.